Previous Articles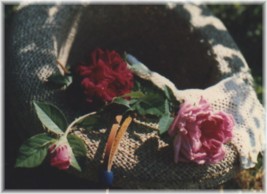 Below you will find a link to an index of common names for the other articles which have appeared on this site and links to the articles themselves. You also can click on the top three links to find pieces I've written for Dave's Garden, eHow, and SFGate.
Please keep in mind that--with the exception of the Dave's Garden ones--those off-site articles have been heavily edited by other people, so they may not sound like me. However, I usually can vouch for the information they contain!
Pistachios: Eating O' the Green
Rambling and Brambling Blackberry
Fenugreek: The Literal Hayseed
Sarsaparilla: Saint or Sinner?
Rustic Roots: Parsnips & Turnips
Lilliputian Lily of the Valley
Shamrocks: Luck O' the Clovers
Datura: Angel's Trumpet or Devil's Apple?
Iris: the Militant Fleur de Lis
Vanilla: the Orchid of Flavors
Bouncing Bogberries: Cranberries and Blueberries
Staunch Yarrow: The Military Herb
Garlic: the Stinking (and Shielding) Rose
Viola Music: Pansies and Violets
The Dangerous Beauty of Narcissus
In Love and War: the Saga of the Rose
---
If you'd like to help support the free articles on this site, please consider purchasing some cards or T-shirts from my Zazzle store: Rustic Ramblings. Most are adapted from my own photos. I leave most of the cards blank inside, as Zazzle allows you to customize them by adding your own text. You can view a few of the items available below. And I do plan to add some gardening T-shirts when I get the time!
View Rustic Ramblings store.