Bewitching Witch Hazel
By Audrey Stallsmith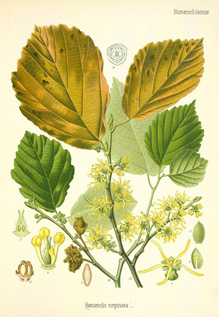 Not even the smallest leaf or hint of green
Is mingled with its sprays,
But every slender stem and twig is seen
Haloed with flickerings of yellow blaze.

What wizard, wise in spells of drugs and gums,
With weird divining-rod
Conjures this luminous loveliness that comes
As if by magic from the frozen sod?

"Witch Hazel" by Elizabeth Akers Allen

In some parts, witch hazel enjoys the distinction of being both the first and last flower of the year.  The most widespread native type, hamamelis virginiana, blooms in late autumn after its leaves have fallen. In "Reluctance," Robert Frost has to admit that season is finally over when "The last lone aster is gone; the flowers of the witch hazel wither."
Fortunately, other witch hazels flower from mid-winter to early spring before their leaves have sprouted. Thoreau writes of the shrub that its thready blossoms "'by their color as well as fragrance belong to the saffron dawn of the year, suggesting amid all the signs of autumn, falling leaves and frost, that the life of nature, by which she eternally flourishes, is untouched.'

This ability to bloom in very cold seasons might seem magical and the shrub's blooms stand for "a spell" in the Language of Flowers. But its name actually derives, not from the sinister crone, but from the medieval wyche ("flexible").  
Its forked branches were often used as diving rods by those searching for underground water, however, which might make the shrub seem bewitched.  Referring to this tradition, Louisa May Alcott notes in Work:  A Story of Experience that "fine natures seldom failed to draw out the finer traits of those who approach them, as the little witch-hazel wand, even in the hand of a child, detects and points to hidden springs in unsuspected spots."

Hamamelis can be roughly translated as "together with fruit," since the seed pods from one year mature at the same time the shrub blooms on the following year.  So you might want to stand well away from it while you are admiring it. Witch hazel discharges those edible seeds so violently that it has been called "snapping hazelnut" as well as "spotted alder" and "winterbloom." 

Of the winter blooming types such as mollis ("hairy"), japonica ("Japanese"), and vernalis ("spring-blooming"), Louise Beebe Wilder writes in The Fragrant Path that "Hamamelis mollis is the handsomest and most fragrant. . .The scarlet and gold fringy blossoms exhale a dusty sweet scent that is perceptible at quite a distance. . ."  There are, however, many hybrids available these days which are probably even more spectacular.

Many readers probably recall witch hazel as the lotion they applied to their acne during adolescence.  It is an extremely astringent plant, much more so in the wild than in the bottle, as many of its tannins are lost during distillation.  So some people hold that the bottled type actually derives most of its astringency from the alcohol added to it.

Before that lotion was available, however, herbalists used witch hazel as their sovereign remedy for both external and internal bleeding. In one of Jack London's books, Valley of the Moon, a character bathed a boxer's head "with witch hazel made cold by resting on the ice."  

In Back to Eden Jethro Kloss even suggested snuffing witch hazel tea as a cure for nosebleed.  Although it is safe to drink tea made directly from witch hazel leaves or bark, please heed Kloss's warning and "Do not drink witch hazel purchased from the drugstore; it contains an alcohol that is not meant to be used internally." 

The plant's astringency should help cure diarrhea, dysentery, and excessive menstruation and it is usually one of the ingredients in medications for hemorrhoids.  Witch hazel also frequently soothes bruises, insect bites, and burns--including sunburns--in addition to being applied to varicose veins to help strengthen them.

Perhaps its strongest "medicine" is the reminder that the natural world is still very much alive beneath all that ice and snow, and liable to burst into bloom at any moment!