Cooling Black Cohosh
By Audrey Stallsmith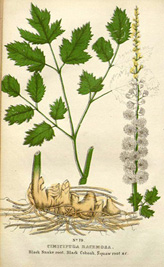 By the black-cohosh with its pearly plume
A-nod in the woodland's odorous gloom. . .

from "The Road Home" by Madison Julius Cawein
I have a black cohosh that is really black—or at least dark purple!  One of the decorative cimicifugas and highly attractive, it doesn't show up well in its shaded position. 

As with many "black" plants, the stems and new leaves are the darkest, while the older leaves are actually purplish green.  I'm hoping the cohosh--in bud now--will "pop" when it blooms, as its spires of flowers should be pinkish-white.

I've occasionally seen the wild version, Cimicifuga racemosa, growing on hillsides hereabout, though I wouldn't call it common.  It can reach heights of 9 feet with ferny foliage and upright, narrow, bottlebrush-like white flowers.  Its candelabra look also earns it the nickname fairy candles.

Some of the cimicifugas have unpleasantly scented foliage, which makes them "bugbanes" as well.  Cimicifuga, in fact, derives from the Latin cimex "a bug" and fugo "to drive away."  Racemosa, of course, indicates that the plant carries its flowers in racemes.  The plant's genus actually is now supposed to be Actaea, the same as that for baneberries, but we gardeners tend to stick to the names we know. 

Fortunately, Cimicifuga racemosa doesn't have a fetid fragrance unless crushed, though there seems to be some disagreement over whether the scent of its flowers is pleasing or putrid.  I should find out shortly, as fairy candles "burn" in late summer here.

The wild type is called black cohosh for the hue and texture of its rhizomes rather than its foliage, cohosh being Algonquian for "rough."  These days the herb has become popular for the treatment of menopausal symptoms, especially to cool hot flashes. As Michael Castleman mentions in The Healing Herbs, "black cohosh has estrogenic effects, meaning it acts like the female sex hormone estrogen."  It also reduces blood pressure and inflammation.

However, as Castleman emphasizes, the herb must be used carefully since estrogen can "contribute to liver problems and abnormal blood clotting, as well as promote the development of certain types of breast tumors. . .Pregnant women should not use estrogenic herbs. . .Anyone with heart disease. . .should not use it."  In other words, black cohosh isn't one of the harmless herbs.  It can, in fact, be toxic in large doses.
Also, overharvesting could lead to its extinction in the wild. A similar plant, mountain bugbane or Actaea podocarpa, is already on the endangered list here in Pennsylvania.

Fortunately, many nurseries offer cultivars of the plant for those of us who just enjoy looking at it. The "black" types include
"Atropurpurea," "Brunette," and "Hillside Black Beauty." Give them a semi-shaded slope with humus-rich soil and allow them to "chill" to their heart's content.
Cimicifuga racemosa image is from The Family Flora and Materia Medica Botanica, courtesy of plantillustrations.org.