Plebian Petunia
by Audrey Stallsmith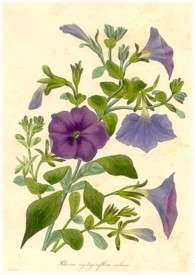 She makes other girls look just like weeds
(I'm gonna be his clinging vine)
Tonight I'll steal into her garden
And make petunia's two lips
(my ever loving two lips)
Make petunia's two lips mine

"Petunia, The Gardener's Daughter," by Sid Tepper
James Tweedie, a Scottish gardener who moved to Argentina in 1825 when he was 50, probably never realized what he'd unleashed on the world. All of the plant explorers had their share of travails, and the no-longer-young Tweedie visited places where his luggage had to be floated across rivers in ox-hide canoes, by Indian girls who swam with the ropes in their teeth.
But he introduced a variety of important South American plants to Europe, including the tweedia named for him, Pampas grass, and—most importantly--petunia violacea (AKA integrifolia). Another South American petunia, a white night-blooming type called nyctaginiflora (AKA axillaris), also entered into the breeding of new varieties.
As it is pollinated by moths and violacea by bees, the two don't cross in the wild, so it took man to bring them together! The flowers on these species petunias are, however, only about 1 1/2 to 2 inches across.
In 1836 Joseph Paxton, head gardener to the Duke of Devonshire, reported in his Magazine of Botany that petunia nyctaginiflora violacea "was raised by us at Chatsworth, and, as we have since understood, in several other places about the same time. It was produced by seeds of the petunia nyctaginiflora which had been impregnated with the pollen of the petunia violacea."
Experimentation with the new flower must have moved at a rattling rate, as by the 1870's, there were 3 to 4-inch petunias available, as well as doubles and small-flowered types. Although Paxton called petunia "quite hardy," it is definitely an annual here in Zone 5. As it does, however, usually survive through several light frosts, I will accept "half-hardy."
We can agree with Paxton, however, that the older petunias—and even some of the newer ones—emit "a delightful fragrance resembling that of the carnation and pink." That scent seems to be strongest in the evening, perhaps a tribute to its night-blooming parent.
Paxton also added, almost prophetically, that the petunia "may be purchased for a moderate price at almost every nursery around London." Its ease of growth and extreme popularity have since made some people profess to despise the plant. But I'm one of those who can't resist it.
Today, of course, petunias are available in almost any size and color. One of my favorites is the relatively new Dolce Flambe, on which no two blooms are quite the same. Like so many of our most important plants, the petunia belongs to the nightshade family. And, although some people object to the slight "stickiness" of the foliage, I'm betting this is one flower that will be sticking with us for decades to come!
Plant plate is from Joseph Paxton's Magazine of Botany and Register of Flowering Plants.