Generous Geranium
By Audrey Stallsmith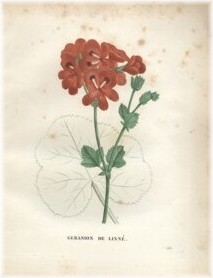 So poor the room, so small, so scant,
Yet somehow oh, so bright and airy.
There was a pink geranium plant,
Likewise a very pert canary.
"The Sewing-Girl," Robert Service
Of all the houseplants that have ever brightened the lives of the lower and middle classes, the geranium has proved to be the most enduring. Since it originated in the dry landscapes of South Africa it can, after all, take a great deal of neglect. Thriving on city windowsills as well as in country gardens, it will bloom almost continuously, given enough light.
The plant most people know as geranium isn't really a true geranium, however. That honor goes to the perennial cranesbill.
Although a member of the same family, the familiar bedding and houseplant would more correctly be known as a pelargonium. That name derives from the Greek pelargos ("a stork") and refers to the stork-like beak that protrudes from the seed clusters. So we can call it storksbill, to differentiate it from its also bird-like relative.
Although most pelargoniums originated around the Cape of Good Hope, some hail from other warm climes, including Australia, New Zealand, the Middle East, etc. Pelargonium triste was reportedly the first to reach Europe, being carried by ship to Holland sometime around 1600. John Tradescant introduced it to England in 1631 after purchasing seeds in Paris.
By the Victorian era, pelargoniums had become much more pretty and popular, as is proved by frequent mention of them in Dickens' novels. Scent is not really the strong point of the most common type—the zonals--the odor of their leaves being somewhat bitter. That may be why the plant had somber meanings in the Language of Flowers, standing for "I shall never see him," "melancholy," and "recall."
But the attractiveness of a smell often depends on the attitude of the smeller, as is indicated by the following narrative in which the hero of Dickens' David Copperfield visits a greenhouse. "It contained quite a show of beautiful geraniums. We loitered along in front of them, and Dora often stopped to admire this one or that one, and I stopped to admire the same one, and Dora, laughing, held the dog up childishly, to smell the flowers; and if we were not all three in Fairyland, certainly I was. The scent of a geranium leaf, at this day, strikes me with a half-comical half-serious wonder as to what change has come over me in a moment; and then I see a straw hat and blue ribbons, and a quantity of curls, and a little black dog being held up, in two slender arms, against a bank of blossoms and bright leaves."
Fortunately there are also scented-leaf pelargoniums, boasting odors ranging from rose to mint to pine, that more than make up for the olfactory lack of their brothers. Some other less-well-know types of pelargonium include the angel (or pansy) type, the regal (AKA Martha Washington or French) type, and the windowbox or hanging-basket ivy-leafed type--among others!
Although storksbills are actually perennial in their countries of origin, they must be protected from freezing temperatures elsewhere. Some people simply shake the dirt off their pelargoniums' roots in the fall, and hang the plants inside a paper bag in a dark, cool place over the winter. The species' tolerance of dry conditions is proved by the fact that many of them actually survive this treatment!
But, of course, pelargoniums that are actively growing will need some water, or they will end up like the sad heroine of Edgar Lee Masters' poem, "Mabel Osborne:
"I who loved you, Spoon River,
And craved your love,
Withered before your eyes, Spoon River --
Thirsting, thirsting,
Voiceless from chasteness of soul to ask you for love,
You who knew and saw me perish before you,
Like this geranium which someone has planted over me,
And left to die.

Other gardeners prefer to pot their pelargoniums in the fall and bring them indoors to sunny windowsills or grow-lights, where the flashy blooms help brighten up dark winter days. Although the plants have generally been used for aesthetic rather than medicinal purposes, they would probably repay farther study. One type, pelargonium sidoides (AKA umkcaloabo or khoara), has become a popular herb in Europe. In 1897 Charles Henry Stevens claimed that the plant, to which he was introduced by a Zulu medicine man, cured his TB.
Since it has been proved to have antibacterial qualities, the pretty silver-leafed pelargonium with small maroon flowers has become rare and protected in its country of origin. So much so that several African women were recently arrested for illegal possession of the plant.
Due to their astringent qualities, other storksbills have treated both dysentery and ulcers. One poor plant was even cursed with the name pelargonium antidysentericum! And the scented geraniums frequently flavor jellies, cakes, etc.
But perhaps its time that scientists also looked more closely at what other healing qualities might lie in pelargonium leaves. There could be gold on them thar' windowsills!
Plant plate is from La Flore et la Pomone Françaises, Volume 6, courtesy of the Missouri Botanical Garden Library.