Waiting Wallflower
by Audrey Stallsmith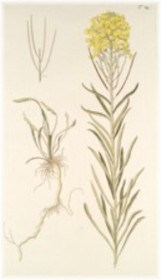 To muse, and be saluted by the air
Of meek repentance, wafting wallflower scents
From out the crumbling ruins of fallen pride
And chambers of transgression now forlorn.

"The Excursion," William Wordsworth
Like the unpopular girl named for it, who is never asked to dance, the wallflower has never yet made much of a splash here in the United States. But it was once extremely popular as a spring bedding plant in England.
Originally known as cheiranthus cheiri, or "handflower," due to its use in nosegays, it has recently been reclassified as erysimum cheiri. Erysimum derives from the Greek eryomai ("to help or save"). Wallflower's nicknames include Cheiry of Keiry, yellow Sweet William, and yellow stock gilliflower as well as wall violet, wall gilliflower, and blood-drops-of-Christ (the latter referring to a red-flowered type.)
Although also dubbed English wallflower, cheiri actually originated in the Mediterranean, and should more properly be titled Aegean wallflower. As it likes cool, damp conditions and light, limey soil, however, it quickly naturalized on cliffs and crumbling ruins in Britain. Its preference for difficult spots caused it to stand for "fidelity in adversity" in the Language of Flowers.
Although a member of the prosaic mustard or cabbage family, the plant also somehow got entwined with a romantic legend of a maiden in a tower—though exactly which romantic legend is somewhat unclear. In some versions of the story George de Dunbar, 10th Earl of Dunbar and March, was trying to keep his daughter Elizabeth away from the prince. But since George wanted his daughter to marry the prince and was highly wroth when she was passed over, that one doesn't make much sense.
So the tale may actually refer to the Maid of Neidpath, youngest daughter of another Earl of March. Forbidden to marry her lover, she dwindled, then died of a broken heart after the young man failed to recognize her in her emaciated state.
In the flower legend, however, the maiden was somewhat more enterprising. She fell to her death while trying to climb down from the tower to join her lover. Thereafter, she was transformed into the flower that has a preference for walls, while her lover wandered Europe as a disconsolate minstrel--with a sprig of his beloved in his cap! In fact, the flower's medieval name, Cherisaunce, means "comfort."
The poet, Robert Herrick, gave one version of the legend when he wrote "Why This Flower is Now Call'd So."
List' sweet maids, and you shall know.
Understand, this First-ling was
Once a brisk and bonny Lasse,
Kept as close as Danae was:
Who a sprightly Springall lov'd,
And to have it fully prov'd,
Up she got upon a wall,
Tempting down to slide withall:
But the silken twist unty'd,
So she fell, and bruis'd, she dy'd.
Love, in pity of the deed,
And her loving-lucklesse speed,
Turn'd her to this Plant, we call
Now, The Flower of the Wall.
In England cheiranthus cheiri, a biennial, is generally started from seed in June or July to bloom the following April. The Siberain wallflower, cherianthus marshallii (AKA allioni), is considered a perennial and usually produces denser flowerheads a couple weeks later than cheiri. It isn't actually Siberian, being a hybrid created by plant breeder John Marshall in 1846 from the erysimums perofskianum and decumbens.
Wallflowers with both single and double yellow flowers were mentioned in Gerard's 1597 Herball. A double red type known as Bloody Warrior supposedly originated at about the same time.
Gerard reported that the single yellow type "groweth upon bricke and stone walls, in the corners of churches every where, as also among rubbish and other stony places. They floure for the most part all the yeere long, but especially in Winter, whereupon the people in Cheshire do call them Winter-Gillofloures."
The Hortus Sanitatis, published in 1491, called those lemon-colored wallflowers the best for medical uses. Water of the distilled flowers was recommended for infertile women, and the herb was also prescribed for childbirth, paralysis, dropsy, and "the chaps which are in the seat." Its use must always have been a bit risky, however, since wallflower contains toxins similar to digitalis.
It is, however, as Gerard mentions, also "very sweet of smell." Val Bourne calls its fragrance "honey and parma-violet." So it may come in handy the next time you get locked in a tower. You can sniff poignantly at a nosegay of the flowers while looking down that long and winding road for any sign of your prince!
Plant plate is from Floræ Austriacæ, Volume I by Nicolai Josephi Jacquin, courtesy of the Missouri Botanical Garden Library.