Sumptuous Stock
By Audrey Stallsmith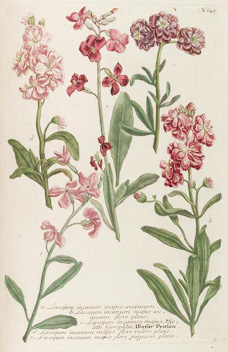 Oh, why, thou lone and lovely flower,
Deny they sweetness to the day;
And ever in night's hushed hour,
Still sigh thy fragrant life away?

"To the Melancholy Gilliflower" from Juvenile Keepsake

Back when I was a beginning gardener, I was attracted by the sumptuous appearance and heavy perfume of double stock flowers. Nineteenth century garden writer Henry Phillips once accurately described them as being "like ropes of roses."
However, I became frustrated with my inability to germinate the plants, which were supposed to be easy to grow.  Then I learned that the seeds must be planted on the surface of the soil rather than beneath it. 
Once I learned that secret, stocks were, indeed, very easy to grow.  In fact, all of the ones I sowed indoors this March sprouted.

Perhaps I should have waited another month, though, as folklore holds that the fullest blooms are produced on plants seeded in April under a full moon.  Although it can be hard to believe, those frilly flowers actually are members of the cabbage family. 

That, perhaps, explains their preference for cool conditions.  In the higher zones, they usually must be grown during the winter or early spring, as the flowers decline once temperatures climb into the 80s Fahrenheit.  In chillier climates, the plants generally bloom in late spring and early summer.  Though they can be biennial or perennial in USDA zones 7 through 10, they usually are grown as cool-weather annuals, preferring full sun and alkaline soil.

The most common type, Matthiola incana, was named for Dr. Pietro Matthiola, an Italian botanist who also was physician to Emperor Maximilian of Austria.  It often is called 10-week stock for the time it takes to mature.  Incana means "hoary," in reference to the gray leaves. 

"Stock" derives from the Dutch or German stoc, meaning "trunk" or "stick," describing the woodiness which eventually develops in the stems of matthiola plants grown where they are perennial. They also have been called gillyflowers, but that nickname is applied to many other scented species—such as pinks, sweet rocket, and wallflowers--as well.

Even in so-called double cultivars, some stock seedlings usually will revert to the four-petal single flowers displayed on the species type, which grows wild on the shores of the Mediterranean.  Like cabbage, that plant is edible and reportedly once used by sailors to prevent scurvy.

In The Fragrant Path, Louise Beebe Wilder writes that, "The development of the stock from wild-flowerhood to its present state we owe, according to Mrs. Louden, to the patience and skill of the weavers of Saxony.  Whole villages were once devoted to this industry and it is said that but one color was permitted to be grown in each village in order that the strains be kept pure." Those colors, Wilder notes, "reproduce those of old and worn chintzes—old rose, dim purple, delicate buff, cream, and so on." 
Don't be disappointed if you can't detect the flowers' scent during the day.  As the poem indicates, stocks release most of their perfume at night, so it's a good idea to plant them in a location where you will be able to smell them then.
When you inhale that fragrance on a spring evening, you'll probably understand the Saxons' dedication to the plant. There are much worse things to take stock in than stocks!
Matthiola incana image is from Phytanthoza Iconografia by J. W. Weinmann, courtesy of plantillustrations.org.