Peerless Peach
By Audrey Stallsmith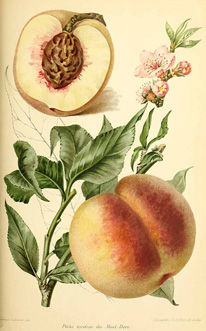 The ripest peach is highest on the tree --
And so her love, beyond the reach of me
Is dearest in my sight. . .

Why -- why do I not turn away in wrath
And pluck some heart here hanging in my path? --
Love's lower boughs bend with them -- but, ah me!
The ripest peach is highest on the tree!

"The Ripest Peach" by James Whitcomb Riley

Years ago, Mom planted a row of rareripe peaches beside her garden.  (They can be grown from seed, producing small fruits which mature early.)  Since peach trees don't hold up well in Zone 5, she probably thought she'd need many trees to retain a few.  About 15 have survived, but they often don't fruit here due to late frosts, which was the case this year--except for a few out-of-reach specimens like those mentioned by Riley above!

So I bought a bag of peaches at the grocery store recently, only to discover that--though unblemished on the outside--they had turned a dull brown shade inside.  As a result, their flavor was far inferior to those smaller peaches that (sometimes!) grow on Mom's trees.

A member of the rose family, Prunus persica actually originated in China. There, it was much revered as a symbol of vitality and immortality and a defense against evil spirits, because its pink blossoms open before its leaves do. Peaches eventually spread to Persia and were known as "Persian apples" by the time that country's conqueror, Alexander the Great, carried them to the rest of his realm.

They reached the New World by the 1500s, probably first planted in North America near St. Augustine, Florida.  Jefferson cultivated them at Monticello, and they mostly remained a  homegrown fruit until farmers made an effort to turn them into an agricultural crop in the late 1800s.  Fortunately, a seedling of a variety which had been known as 'Chinese Cling' produced a particularly handsome yellow freestone peach. It was named 'Elberta' for the wife of Samuel Rumph, the man who made that cultivar a commercial success.

The esteem in which peaches were held during the Victorian era is proved by their meaning in the Language of Flowers: "Your qualities, like your charms, are unequalled."  Their common English name derives from the French peche.    

Their branches once were a favored wood for water witching.  According to Ozark Magic and Folklore by Vance Randolph, superstitions also hold that you should fertilize a peach tree with old leather shoes buried near its roots—and hammer nails into the trunk to force it to produce fruit or to prevent that fruit from falling too soon.  A wind in the south on Groundhog's Day or Valentine's Day reportedly is a bad omen for the crop, which might be just as well, since a heavy yield of peaches supposedly means less of more traditional farm crops or vice versa.   

I take leave to doubt that, since all of our crops were down this year. We blame that on the excessively wet weather for much of the season, but part of it could be due to the fact that Mom wasn't here to tend the garden ones.  Still, as our pastor pointed out at her funeral, the many peach tree seedlings she gave away continue to bloom and bear fruit--a sign of the immortal life which now is hers.
The image of Prunus persica is by L. Batsch from Revue Horticole, courtesy of plantillustrations.org.